Voices Across the Divide is part of an oral history project documenting the family stories of Palestinians who lived through the 1948 expulsion from historic Palestine and the generations who followed and ultimately came to the US. I want to honor each person's memories and experiences; to make this little known part of history available for educational and research purposes. One of the interviewees, Hasan Newash, quotes the Palestinian academic and activist, Edward Said, as saying that if a culture does not tell its narrative it ceases to exist, it experiences cultural genocide. As a Jewish American well versed in Holocaust history, I am familiar with tragedy of genocide and the power of remembrance. As a writer and filmmaker, this is my contribution; let these voices be heard.
I invite you to explore the full interviews and transcripts.
If you are interested in downloading an interview for personal, academic, or respectful political purposes, please contact the filmmaker.
Hala Ajluni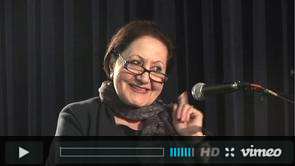 Hala was born in 1929 in Katamon, West Jeru­salem, one of eight children, and her father was a scholar, philosopher, and teacher. She was brought up like her father who was a literary free thinker. They had Jewish and Muslim, Greek and Armenian friends. She remembers the Bal­four Declaration and the Dayr Yassin massacre. With the increasing violence, her education was disrupted and the family fled to their summer home in Birzeit. In 1949 she married and moved to Ramallah and then she taught school in Da­mascus, Syria where her husband was politically active. After seven years, despite a lack of papers, they were able to move to the US. She has three children, eight grandchildren, and three great-great grandchildren.
read entire transcript >>
Daphne Assimacopoulou Beardman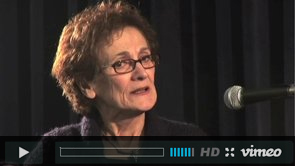 Daphne was born in Haifa in 1934 of Greek-Italian ancestry. Her father was a shipping agent and the family lived a vibrant life with close family ties in the region. With increasing violence in 1947-1948, the family escaped suddenly to a cousin's just outside Haifa and then moved to Beirut and then Damascus where her father worked for the Red Cross and the family was granted refugee status. Her father's positive attitude helped the family reconstruct their devastated lives and he eventually got Greek citizenship. Daphne worked for UNRWA in Beirut for a few years and then moved with her family to Greece in 1961. She married an American and moved to the US where they raised their daughters.
read entire transcript >>
Yusif Barakat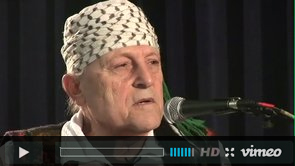 Yusif was born in 1935 in Haifa, in the neigh­borhood of Wadi'l Saleeb. Despite the British colonization, he remembers an idyllic childhood, which included Muslim, Christian, and Jewish friends. In 1947, with rising tensions, he was put on ship to the US because his family also had US citizenship. His transition was extremely traumatic. While learning English and completing high school, he delivered newspapers, then worked for Western Union, and after his father died, took his place at the Ford Motor Company. He later joined the US Air Force. He has been active in local politics and passionately works for global peace.
read entire transcript >>
Hanneh Ahwal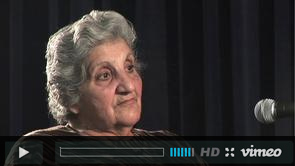 Hanneh was born in 1936 in Jaffa, one of seven children, and fled with her family during the 1948 War to Ramallah. She has vivid memories of the fighting and the expulsion. In Ramal­lah she married and had eight children and was very involved with the Catholic Church. Her family gradually immigrated to the US, but after living through the traumas of the 1967 War, when her father in the US became ill, she finally joined her family in the US in 1974.
read entire transcript >>
Tahir Monsour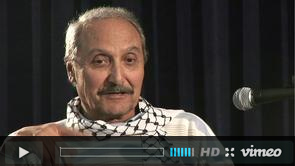 Tahir was born in 1936 in a rural village, Al Qubab, in the Ramle district, one of eleven children. He remembers two of his brothers in the village militia in 1948 and the excitement of the resistance, then the frightening evacuation of the village with the inhabitants walking east towards Ramallah. His older brother Ahmed had just completed medical school and was killed by a land mine. The family moved just outside Amman Jordan, living in a tent for a year, and in 1951, Tahir's mother died in a state of trauma and disorientation. His father and broth­ers pooled their resources and started a flour mill. Tahir moved back to Ramallah to attend the Friends School and was able to come to the US for college in 1953. He is married with three children and five grandchildren.
read entire transcript >>
Nimer Haddad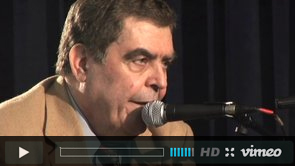 Nimer was born in Al Bassa in Northwestern Galilee in 1939 to a family with three children. After hearing about the Dayr Yassin massacre, his family fled in 1948 to Alma Alshaab in south­ern Lebanon. They lived in the Rashideyeh refugee camp and then moved to the Debayeh camp on the outskirts of Beirut, living under ter­rible conditions where his father worked as an illegal laborer. Nimer went to UNRWA schools and then to Germany for further education. Once he became a US citizen he worked at the United Nations in Saudi Arabia, Bahrain, Yemen, Egypt, and Ghana, as a consultant and expert in AV communications.
read entire transcript >>
Jamilah Okab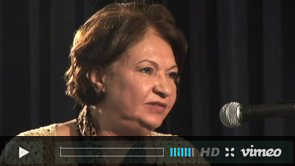 Jamilah was born in West Jerusalem in 1941, the oldest of ten children, and grew up in a beautiful house. In 1948, after a neighbor was killed, the family left abruptly and went to Syria where they lived in a tent until her father decided to treat the trip as a two week vacation. They rented a house, enjoyed Syria, but as time went on, the family ran out of money and fell on hard times. They stayed in Syria for two years, and then returned to Jerusalem where UNRWA offered them a house in the East Jerusalem neighborhood of Sheikh Jarrah in exchange for their refugee ID cards . In 1967, Orthodox Jews claimed the houses and Jamilah's family was wrongfully evicted. The families fought the decision in the Israeli courts and in 2000 they were forcibly evicted again. They went back to the courts, were able to retrieve their house, but in 2009 the family was once again fighting eviction claims. (NB they were ultimately evicted again). Jamilah worked as a teacher in Saudi Arabia and Kuwait and then moved to the US with her husband.
read entire transcript >>
George Khoury
George was born in Jerusalem in 1942 to a family of six children. In 1947 the family lived in Al Lyd; his father was a surveyor. George has vivid traumatic recollections of the British occupation, battles with the Haganah, being loaded onto trucks during the family's expulsion, and the endless march eastward towards Birzeit in 1948. His family lived a traumatic life for two years and then moved to Amman, Jordan where his father bought a piece of land adjacent to the Jabal Hussein refugee camp. The resources and in­genuity of his mother were critical to his survival and the survival of countless other refugees. He came to the US in 1961 where he received a degree in mechanical engineering and business administration. He has established many Arab American organizations in Metro Detroit and was the former president and co-founder of the As­sociation of Arab American University Graduates (AAUG) and co-founder of the Organization of Arab Students at Wayne State University.
read entire transcript >>
Hasan Newash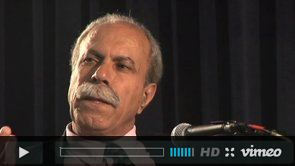 Hasan was born in 1942 in the Jerusalem district of Ein Kerem and his father was a home builder; the extended family had extensive fruit orchards and olive trees. His father and his uncles were in the resistance and in 1948 he personally experienced the traumatic and terrifying expulsion of his family, first to his aunt's house and then to Al-Sult, the eastern part of Jordan. This intense trauma and subsequent losses became the psychological foundations for the rest of his life. He returned to Jerusalem to live with his brother and complete his education. Once he came to the US his political activism was grounded in his experience as a Palestinian and in his early per­sonal losses. He is now Director of the Palestine Office in Detroit, Michigan and works to honor Edward Said's observation that if a culture does not tell its narrative it ceases to exist, it experiences cultural genocide.
read entire transcript >>
Wadad Abed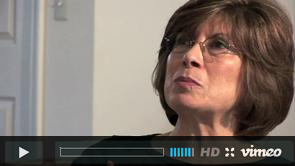 Wadad was born in Nablus in 1949, the fifth girl of seven children, in a family with a strong political sense of Palestinian and Arab identity. Her father owned a liquor store. Wadad experienced the terrors of the War of 1967; her family immigrated to the US in 1968 after the situation became increasingly dangerous. In the US, she attended university and became a teacher and she continues to focus on improving the opportunities for Palestinian children. Over the years, she became politically active and struggled with her own issues of identity, the role of the US in world politics, and her personal search for understand­ing of the Jewish experience of the Holocaust.
read entire transcript >>
Terry Ahwal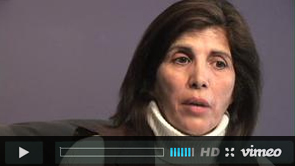 Terry was born in 1956 in Ramallah to a family of eight children. Her father was a carpenter. While her parents and grandparents experienced the 1948 expulsion from Jaffa, her first understanding of war came in 1967. She became increasingly politically active while experiencing the realities of occupation, curfews, home invasions, beatings, and arrests. Her parents sent her to the US in 1972 for her personal safety. In the US she has remained politically engaged and started a program through the Ramallah Federation called Project Hope.
read entire transcript >>
Abdelfattah Abusrour
Abdelfattah was born in Aida refugee camp in 1963. His parents experienced the Nakba and the displacement of the extended family to a refugee camp. Abdelfattah grew up in Aida camp, was educated in UNRWA schools and experienced curfews, home invasions, the beating of his mother by an Israeli soldier, and further traumas and indignities. Education is important to his family and Abdelfattah did well in school, focused his anger and creativity on the arts and photography, and got a scholarship to France. The Israelis delayed his travel permit, but ultimately he was able to study in France where he developed a deeper understanding of his society from a distance as well as the perception of Palestinians as terrorists. He married a woman from East Jerusalem and is a passionate critic of the daily human rights violations, the impact of occupation, permitting, checkpoints. He believes in the basic value and dignity of all human beings and is the founder and director of the Al Rowwad Children's Theater
read entire transcript >>
Jamal Aruri
Jamal was born in 1967 in Massachusetts. His father, Naseer Aruri, was born in Jerusalem to a Muslim family and is a famous Middle East scholar and activist who has dedicated his life to Palestine. Jamal's mother is a Lebanese American Catholic. He grew up in a very American home with Arabic food and culture, but learned more about history and politics when he traveled to the region in high school and college, visited his father's village of Burham, and became engaged in political activities. He feels very Palestinian in the US and very American in Palestine, although Israeli authorities treat him with suspicion because he is Palestinian and he comes from an activist family. Jamal lives in Andover, works as a lawyer, and has four children. He is focused on teaching his children tolerance and an appreciation of American multiculturalism and at the same time wants them to understand Palestinian history, Zionism, and the current political situation in the Middle East.
read entire transcript >>
Leila Farsakh
Leila Farsakh was born in 1967, two months after the war, in Irbid, Jordan. Her paternal grandmother, the daughter of a sheikh, was born in Saffuriyya, a town that was later destroyed in 1948. Her father grew up in Ramallah in the Birzeit region and remembers the streams of refugees coming from Lyd during the Nakba. He became politically active in the pan-Arab movements, studied engineering in Germany, and married an Italian woman. Leila's family experienced exile in 1948 and again in 1967 when her father was working in Jordan and unable to return to his home in Palestine. Leila has memories of Black September, experienced a number of Middle East wars as she grew up in Kuwait and Dubai while returning to visit family in Palestine as a child. She speaks eloquently of issues of identity, resilience, determination as well as the humiliation of living under occupation. She studied political science in the UK, has worked in Palestine with the UN, and lives in Cambridge with her German husband and daughter where is she active in education and building the foundations for a peaceful future in the region on a personal and more national level.
read entire transcript >>
Salma Abu Ayyash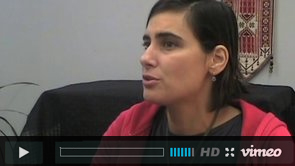 Salma was born in Jordan in 1968. Her parents are from Bayt Ommar, outside of Hebron, but they moved to Jordan for work and were not allowed to return after the 1967 War. Her grandparents and parents experienced British colonization and her father was politically active both in the US where he was educated and at home. Salma experienced Black September, discrimination and conflict in Jordan, and the dangers and indignities of the Israeli occupation, but she came to love Palestine visiting her grandparents in Bayt Ommar. She really learned Palestinian history only after coming to the US in 1986 to study engineering. She remains politically active, dealing with issues of resistance and identity, liv­ing in the US with her husband and son.
read entire transcript >>
Yamila Hussein Shannan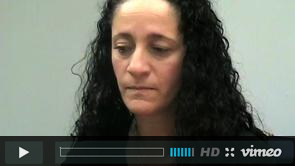 Yamila was born in Bogota, Colombia, in 1968, and her family was from Kobar, a small village near Birzeit. Her father was active in the resistance movement, was an eyewitness to the Dayr Yas­sin, massacre, and left the region after the 1948 War. Yamila is one of ten children and grew up in a strong Arab community in Colombia, speaking Spanish and Arabic. When her merchant father was killed in 1977, her mother took the family back to the village in Palestine. Her application for family reunification was rejected and it took a legal case to the Israeli Supreme Court and eleven years of struggle for the children to get their IDs. Her mother had to place her daughters in an orphanage, Dar al-Tifl al-Arabi, founded by Hind al-Husseini, so that they could receive an education. Consequently Yamila became rooted in Jerusalem. In the First Intifada in 1987, she was active in popular committees for education, experiencing curfews, checkpoints and the arrests of her siblings. She remains active in fighting for human rights and in 1997 came to the US for graduate school with a focus on the politics of education. She continues to work as an educator in the US.
read entire transcript >>
Diana Buttu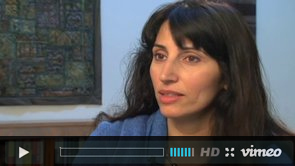 Diana was born in Toronto, Canada to a family of three daughters in 1970. She has duel Canadian and Israeli citizenship. Her parents are Israeli citizens from Nazareth, although her father's family was originally from nearby Al-Mujaydil, (now called Midgal HaEmek), and fled to Nazareth in 1948. His family then fled north, possibly as far as Lebanon, but returned to Nazareth. As Palestinians, her family was officially "internally displaced" or "present absentees" and lived under military rule in Israel from 1948-1965. Her young parents left for Canada in 1966 after her father's younger brother was killed by a drunk Jewish Israeli driver who was never charged with his death. Arriving as new immigrants, her mother became a seamstress and her father a welder. Diana learned of her Palestinian heritage and the on-the-ground realities of second class citizenship and occupation from her grandmother and cousins when visiting Nazareth and was inspired to move back to Palestine and to become a human rights lawyer. In 2000 she joined the PLO legal advisory team for the Camp David negotiations and left disillusioned five years later. She is a strong advocate of the Boycott, Divestment, and Sanction movement that resurged after the International Court of Justice declared the separation wall illegal in 2004.
read entire transcript >>
Faris Alami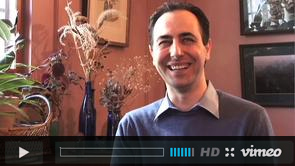 Faris was born in 1972 in Kuwait. His grandpar­ents and parents were displaced from an area between Jaffa and Gaza and from Be'ersheba by the 1948 War; his grandparents currently live in Gaza. His family has Palestinian roots dating back to 1090 and they were well-to-do business people. His parents moved to study in Egypt and then to work in Kuwait during the 1967 War. He experienced the chaos of the invasion of Ku­wait by Saddam Hussein, triggering his grand­father's memories of the Nakba. Ultimately Faris came to the US in 1990 to go college; then as a stateless person, he applied for political asylum in 1991 but instead faced deportation orders from 1993- 2009. He is currently a businessman, married with two children in the US.
read entire transcript >>